Skip to main content
Production History
Alpha Converting produces quality slitter rewinders, unwind and rewinds, and associated converting equipment for the UK market and worldwide. The Company prides itself on a flexible approach to meeting the demands of our varied customers. We take the time to listen to your requirements and to understand your existing production techniques and methods to offer converting equipment that will best fulfill your requirements. Our innovation with high standards of technical engineering set us apart within the converting industry.
Alpha Converting was formed in December 1999 ready as a converting supplier for the new millennium. Our first machine was for a high speed spooler for winding short rolls of printing plates for the new DI digital printing presses manufactured by Presstek Corporation in the USA. Presstek was delighted with this machine; "The machine has exceeded our expectations giving us improved reliability, higher operating speeds and many productivity features for our operators" reported Steve Federico of Presstek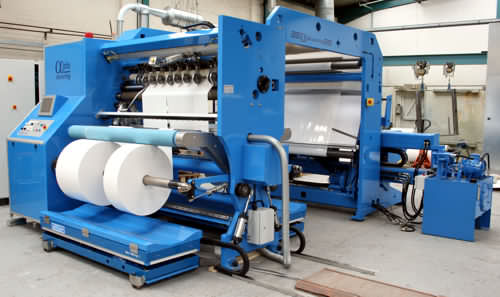 International Business
In 2001 Alpha launched the ALPHAWIND individual arm slitter rewinder for high precision slitting of plastic films. 2002 saw the introduction of the ALPHALAB range of narrow width slitter rewinders followed by the ALPHATWIN slitter rewinder for general packaging films and for labelstock.
2003 saw the sale of the first ALPHAMATIC automatic winder for the production of under floor waterproof membranes working directly in line with a bitumen coating line for W R Meadows located near Chicago.
2003 also saw the sale of the first ALPHASPOOL traversing spooler with a flexible computerised control system for winding of food casings.
The first ATEX rated equipment for hazardous areas (explosion risk) was supplied in 2006 to LEE Filters in Andover, UK.
Alpha is located in the world centre of excellence in inkjet printing and in 2007 supplied its first ALPHAPRINT print platform. Working in cooperation with our customers at the forefront of print technology.
Alpha provides the know-how in converting for a winning partnership. Alpha has continued to develop all of its standard machine ranges as well as supplying unique custom machines for many industries. As the range of products increases so does the range of materials that we have supplied equipment for. The range now includes:
Printed Film
Label stock
Nonwovens
Waterproof membranes
Food casings
Brass strip
Steel strip
Scouring pads
Magnetic strip
Dry film photo resist
Printing plates
Polyester
Colour Filter
Foam adhesive
Wound dressing
Paper
Newsprint
Tissue
Airbags
RFID
Textiles
Printing blankets
Nickel foam
Webbing
Cable Wrap
Metallised film
Laminates
Technical leather
Polypropylene (PP, OPP, BOPP)
Polyester (PET)
Polyethylene (PE, LDPE, HDPE)
Polystyrene (PS)
Polycarbonate (PC)
Polyvinyl chloride (PVC)